Decade Dungeon Gaiden, a new MSX RPG game by HABIT SOFT (JP) | By MSXALL
Game Plot
Adventurer, I often visited you. On the outskirts of this city, there is a decaying dungeon, and it is said that treasures sleep deep underground. However, there are many evil monsters lurking, and there are countless adventurers who have exhausted themselves in the dungeon. If you still want to challenge yourself, be prepared. May you have the blessing of God!
How to Play
Explore the dungeon while defeating monsters and leveling up. The treasure chest contains valuable items. Watch out for mimics while trying to defeat the boss monsters hidden in the bottom layer. Once you have the jewels, return to the entrance. It's a dungeon crawl until you get home!
When you defeat a monster, you will gain experience points and level up. As you level up, the maximum life value will increase and your life will be restored. If the maximum life value does not increase, the life will be restored to a large extent.
You can get the item by taking the treasure chest. In rare cases, mimics mimic a treasure chest.
Go down the stairs and aim for the bottom layer. If you move the floor, the displayed map will be reset.
There is a boss monster in the bottom layer. When you defeat the boss monster, a treasure chest containing jewels will appear.
Once you have the jewels, go up the stairs and return to the entrance to the dungeon. It will be clear if you can return safely.
Controllers
| Keyboard | Joystick (Port A) | Movement |
| --- | --- | --- |
| ←  | Left lever  | Move player to the left. |
| →  | Right lever  | Move player to the right. |
| ↑  | Upper lever  | Move up the player. |
| ↓  | Lower lever  | Move down the player. |
| Space | Trigger  | Attack with a sword. Use items while selecting items. |
| B or N or M  | Trigger  | Item selection. |
| F1  | | Pause the game. |
Game Technical Sheet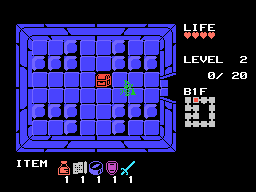 Release Date: July 30, 2022
Origin: Japan

Language:

English
Price: ¥ 8,800

Software house:

Rabbit Soft
Box picture illustration: Sho Kobayashi
Package design: Mahoro Ariya
Pixel art: loose
Number of Players: 1
Platform: MSX 1
Sound: PSG
Controllers: Keyboard or Joystick (with both triggers being used)
Game Price And How To Buy It
The game will be released on July 30th in an event in Tokyo.
Among may confirmed visitors, there will be a guest appearance by Takeaki Kunimoto, a former composer of video game music who used to work for Hudson Soft and who is known for famous game hits such as Star Soldier, Milon's Secret Castle, Mickey Mousecapade, and Robowarrior. The game is also scheduled to be featured on an event in Nagoya on July 31st.
The game will be exclusively sold at the Game Impact website. Price is ¥ 8,800 (equivalent to US$ 64.50 or EUR 61.67€). Shipping is not included, but it is calculated as ¥ 600 for Japanese buyers. Sadly, there is a note on the website saying "An overseas person can't buy it", but lets hope it will change with time.
The Game Set contents is described as: Paper Box, Instruction Manual, Cartridge.
---
Published on
MSXALL
at
https://is.gd/5uAws4
.